Sky Kitchen Cabinets covers the 3 years of Warranty on Kitchen Cabinets, Washroom Vanities and Entertainment Units installed by Sky Kitchen.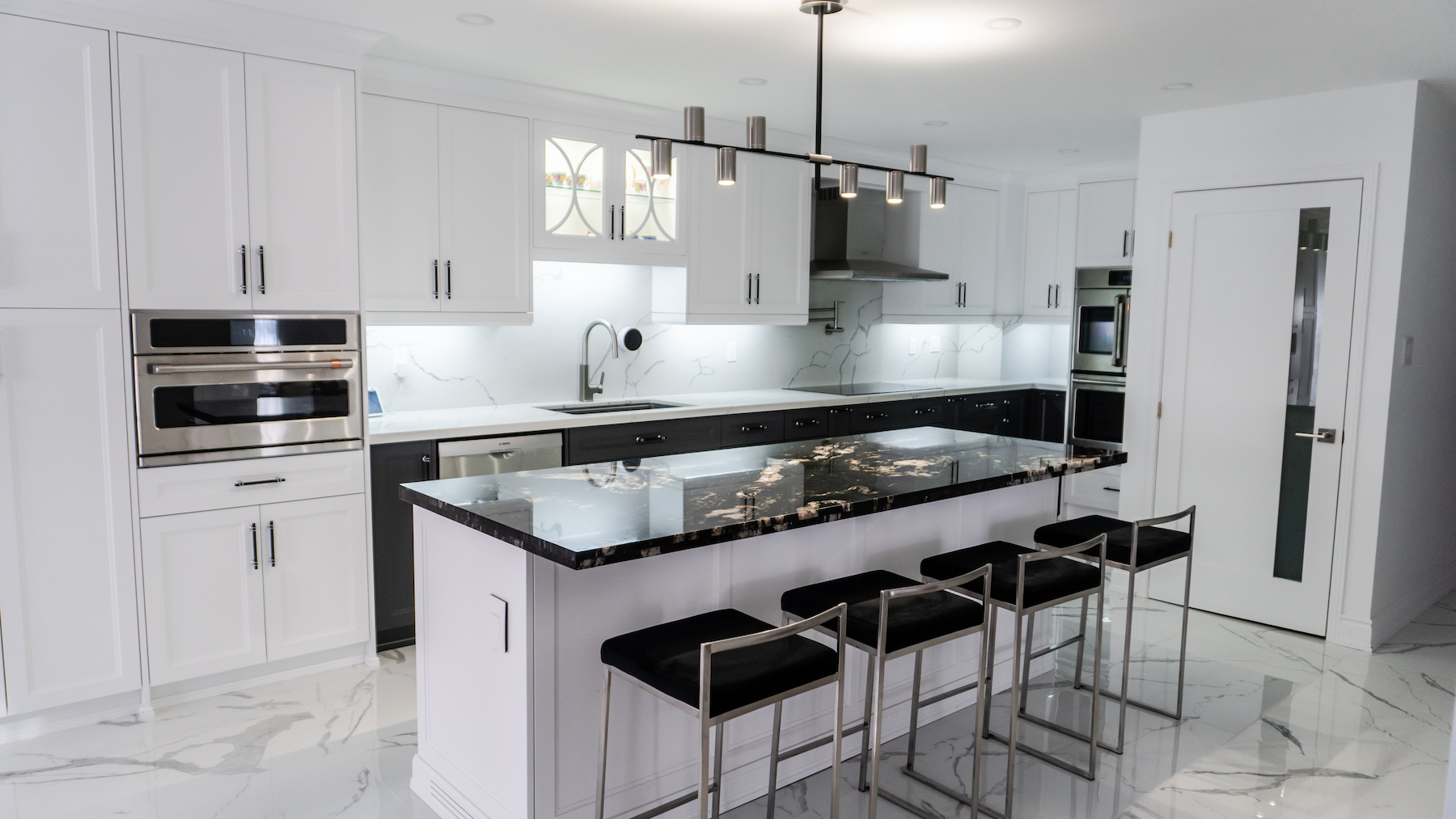 1. NATURE OF PRODUCT, WARRANTY, AND DISCLAIMER
Natural wood grains may vary from conceptual renderings or displays. Wood darkens with age and special ultraviolet protectors are added to custom finishes, but do not prevent the wood from darkening. Variations may occur from door to door and even between components of the same door. Exposure to sunlight may also change colour over time.
Stains and painted finishes will vary according to 'hand rubbed' glazing products. Hand-rubbed applications may result in variations to uniformity and consistency, varying from renderings and displays.
Exposed ends are matched to finish and might vary in some cases due to the nature of the wood. All cabinet boxes are made from material selected by the client and listed on the Order Form. All wood doors will expand and contract with changes in humidity levels.
Sky Kitchen's services are limited to the installation of cabinets, moulding and valance supplied by Sky Kitchen. Installers will place protective floor material in all work areas, and where possible use a side entrance or garage entrance for delivery. Installers will sweep up the site at the end of each day during installation. Upon completion, an Installation Report will be completed by the client and Sky Kitchen installer.
Sky Kitchen warrants: (i) the cabinets and accessories (Product) will remain free from manufacturing defects for 3 years from the Installation Date; and (ii) the services will be performed in a respectful work environment and defects in workmanship solely attributable to the services will be repaired by Sky Kitchen at no additional charge, provided the client sends notice in writing to Sky Kitchen within 30 days of the Installation Date.
The Product also contains accessories, such as hinges and drawer glides whereby Sky Kitchen provides a Limited Lifetime Warranty for the lifetime of the kitchen; some conditions may apply. For hinges and drawer glides manufactured by Blum and installed by Sky Kitchen in the Province of Ontario, Sky Kitchen extends to the client Blum's limited lifetime warranty that the door hinges and drawer glides will be free from defects in material and workmanship under normal use.
Sky Kitchen's warranties specifically exclude: (i) damage resulting from defects, movement or failure in the structure on which the Product is installed; (ii) damage to the Product caused by any application of cleaning solutions, paints, coatings or modifications of any kind; or (iii) damage to the Product caused by misuse, neglect, or improper handling.
If the client claims a deficiency in the Product or services more than 3 years after the Installation Date, Sky Kitchen will charge a service call fee for each visit. Based on the Sky Kitchen technician's findings, parts and labour will be charged separately. Sky Kitchen reserves the right to procure, at its cost, an independent report to address any issues or discrepancies of a Product or service warranty claim.
Except as set out in this Warranty statement, the Products and services are provided "as is". Sky Kitchen disclaims all other warranties or conditions, express or implied, including, without limitation, any implied warranties or conditions of merchantability or fitness for a particular purpose.
Sky Kitchen is not responsible or liable for delays in delivery due to fire, flood, Acts of God, strikes or any other condition or contingencies beyond its control.
2. LIMITATION OF LIABILITY
Sky Kitchen, nor any of its affiliates, directors, officers, employees, authorized agents or dealers shall be liable for consequential, indirect, special, incidental or similar damages, such as loss of business revenues, profits or savings, even if Sky Kitchen is advised of the possibility of these damages. Sky Kitchen's liability is limited to the amount paid by client for the Product or services, whichever is applicable.
3. GENERAL
Any work/services performed beyond the services specified on the Order Form (Additional Services) is chargeable at Sky Kitchen's then current rates.
Disputes regarding this Warranty shall be governed by the laws of the Province of Ontario, and the applicable laws of Canada. This Agreement is written in the English language at the express request of both parties. La présente convention est rédigée en anglais à la demande expresse des parties.
The Warranty appearing on this website is for general information. Please refer to your Order Form/Agreement for specific Warranty coverage.